A couple of books coming up which may be of interest. Firstly, Web Standards Creativity is up on Amazon for pre-order. It's a sumptuous full-colour paperback covering topics like Typography, PNG transparency techniques and Grid Design from the likes of Ethan Marcotte, Simon Collison, Cameron Adams, Aaron Gustafson, Jeff Croft, Derek Featherstone, Dan Rubin, Andy Budd, Ian Lloyd, Rob Weychert, Andy Clarke, and me.
Secondly, Five Simple Steps: Designing for the Web is nearing completion. It's not quite finished yet, and yes I'm going to miss the January deadline, but it will be worth the wait. To keep you going until then, here's a few tasters…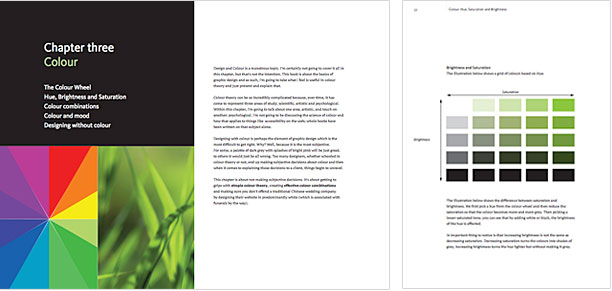 Self-publishing your own book is tough. I was naive to think I would get this finished by Christmas and ambitious to think it would be finished this month. These things take time, especially if you consider I'm writing, art-directing and designing and publishing this book. That said, it's only a little overdue and I'm sure it'll be worth it.
Thanks to everyone who has already signed up for the launch discount. There will also be a bulk licence available for £25 for five copies for you and your collegues. There is still time to sign up for the discount too if you haven't done already.
Right, that's enough talk, I've got a book to finish.