Mrs B and I are on our annual jaunt to the Alps for a spot of snowboarding. This year we're staying in the, rather large, Swiss town of Zermatt which is nestled in a valley underneath the beautiful Matterhorn. The snow is not great at the moment. And it's raining here in the village which is making everywhere covered in a thin, almost invisible, coating of ice. Putting the snowboarding aside for a moment, this place is rather special for one reason: The Matterhorn.
The other day, when Mrs B was off on her birthday treat (a massage at the rather grand Zermatterhof hotel), I had an hour to kill so went with my dad and brother to the Matterhorn museum to soak up the mountaineering atmosphere. It didn't disappoint. I've been an armchair mountaineering enthusiast for a good few years now, so coming to the home of the Matterhorn and surrounding peaks (there are six of the top ten highest mountains in Europe in plain view from here) was something I was really looking forward to.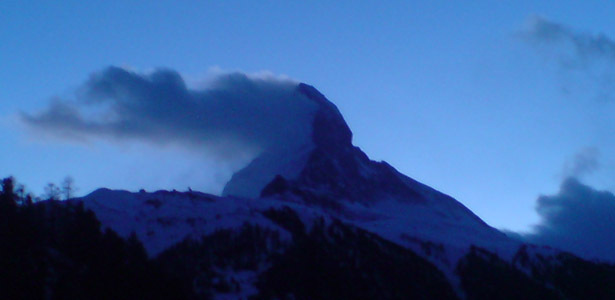 The Matterhorn is a stunning peak. It was considered unclimbable until, after 13 (or was it 12) failed attempts, Englishman Edward Whymper summitted the peak in July of 1865. Four of the party of seven climbers were killed on the descent when they fell and the rope which held them all together snapped. Since then, the Matterhorn has been summitted countless times and a relatively experienced climber can be guided to the top.
I'd love to be able to do it. However, I'm scared to death of heights. Sometimes, I think I'm ok, like the other day when me, my wife and brother took the cable car up to Klein Matterhorn and climbed up to the exposed viewing platform at nearly 4000 metres. Stunning views, and I'm sure I would have really enjoyed them if not for the fact of the abyssal cliff faces on three sides of the platform. I wanted to jump off. That is what vertigo feels like. I was light-headed, and was not happy about going near the edge. It is because of this, that I couldn't possibly be a mountaineer.
The snowboarding has been pretty good this year. We both have new, more advanced boards which are holding up well in the conditions. Zermatt itself is ok, but I think it's more skier friendly and there is certainly a feeling of skier/snowboarder rivalry. After the impressive ski in/ski out facilities of Les Arc last year—and the incredible snow—it's frustrating having to walk for twenty minutes with all your gear and then have to catch three lifts to get up the top. Typical bloody Northerner; always moaning.
So, only one more day left and it looks like the weather may clear a little and we'll have a day on the glacier before we leave on Sunday. Then it's back to work. Great.