I don't often talk about work on this blog, but today is the exception. We're enjoying a particularly busy time at Mark Boulton Design. We're working on some great projects for some fantastically great clients – from major global sport and news organisations, to open source content management systems. We're so busy, in fact, we need more people. In February this year, we advertised for a designer and an Apprentice web designer. We got a lot of interest in both positions which is great.
Welcome Nathan
Nathan Ford wrote to me a couple of weeks after advertising the position. Nathan currently works at Unit Interactive, alongside none other than Andy Rutledge. Andy and I have exchanged emails over the years. I read his blog, he reads mine. We both started small design studios at around about the same time. I've got a lot of time for Andy, and knew straight away that anyone who's been working for him for three years will be something pretty special.

As it happens, I've known of Nathan for a while too. I've read articles he's published, follow him on Dribbble and Twitter. I like what he has to say and the work he produces. We're also thrilled he's taking the opportunity to move to the UK with his wife and work with us in South Wales.

Exciting times ahead, and I can't wait. Welcome Nathan!
Welcome Colin
When we announced the Apprenticeship position at Mark Boulton Design, it caused a bit of a ripple in our small industry. Fed up with the idea of internships, we wanted to commit to someone. We wanted to educate throughout a fixed two year contract, where the apprentice would be working on real projects from day one. Projects that matter to us. Projects that we hope will matter to them.

Well, from the that first tweet, we got a lot of responses. In fact, we had about 50 from as far away as Alice Springs in Australia, and as close as Cardiff.

In the end – and it was a very close thing – Colin Kersley got the job. Here's a photograph of one of his 'hand-written application':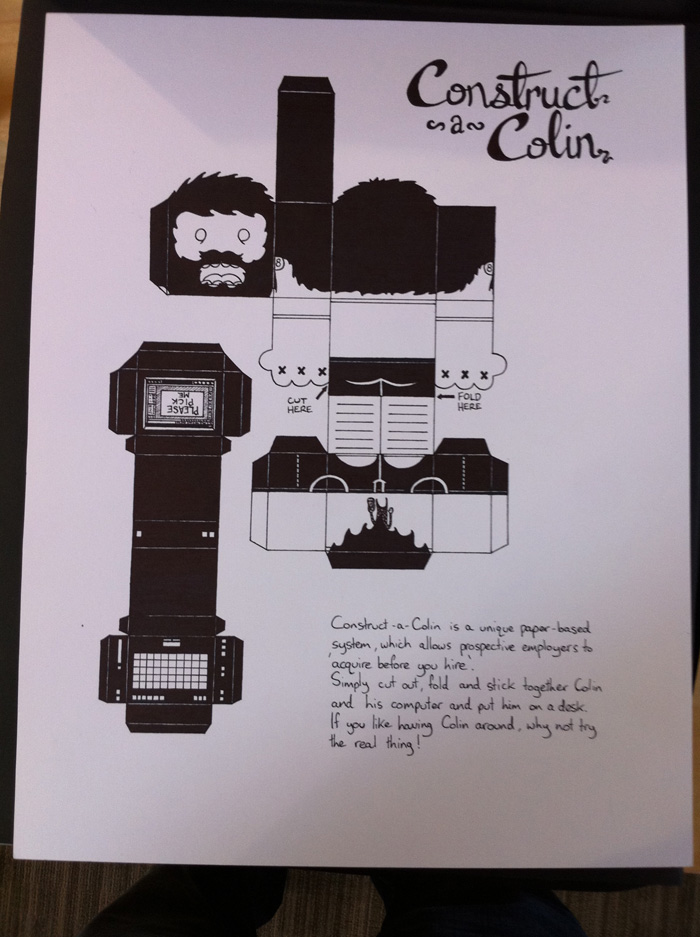 He's smart, funny, creative, hungry, and a damn good illustrator. We're very happy to have him on board. Welcome Colin!
With Colin and Nathan starting at Mark Boulton Design I'm fulfilling a bit of a dream that I had for the company when I first started. We're growing a team of some of the best talent the industry has to offer, and also committing and giving back to the local community.