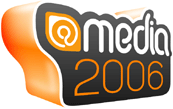 I'm getting pretty excited abut @media which kicks off in a couple of days.
Over the past few months I've been working with the guys at Vivabit to produce the printed material for the conference. It's been great to get my teeth stuck into some print again, but I've forgotten how stressful print deadlines can be. I think printers are like builders, and to be perfectly honest I've no idea how some of them remain in business. But if you find a good one, it's a totally different story.
There were problems with finishers (not being booked in to do the stitching), to name badges having to be printed again (bloody printer cropped them landscape instead of portrait), but we got there in the end, the client's happy and I'm looking forward to seeing them in situ.
That brings me neatly onto the conference itself. It looks a belter this year. Not only the panels, but I'm in the position of knowing a lot more people so the social side of it will be more enjoyable. On another positive note, I'll also be enjoying @media 2006 illness free. Last year—about two weeks after @media—I was in hospital, I'd lost a stone in weight and was diagnosed with Ulcerative Colitis. At SXSW, I had a flare up (probably due to the stress of preparing for a panel!). However, currently (touch wood), I'm symptom free and feeling good. I'm just so looking forward to meeting up with friends and making new ones.
So, if you see me, say hi.