All of sudden I find myself with three options for measuring the stats on this site - MeasureMap (although this is still alpha software, so it's not strictly a fair comparison to the others), Mint and most recently Google Analytics.
I've mentioned in the past I have a problem using the stats package offered by Dreamhost with my CMS, Expression Engine. This, I think, is due to my .htaccess rewrites to get rid of EE's default '/index.php/' in the URL.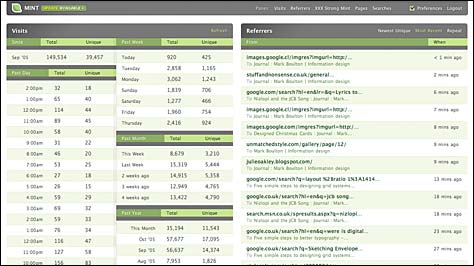 About four months ago now, I installed Mint (after using Shortstat for some time) and have been, and continue to be, very happy with it. What is missing (purposely I think) from Mint's offering was more detailed stat information. Mint is excellent at what it does—providing a snapshot of your stats—but I'd like to have the option at least of more complicated statistics if I want them.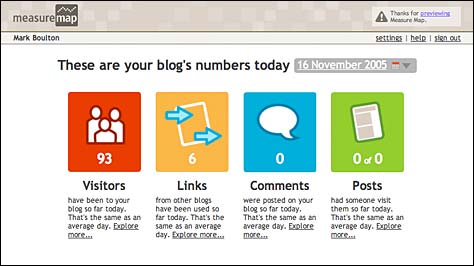 At first I thought MeasureMap might be the product to do this. MeasureMap is still very much in Beta and it's got some good functionality on the way which will help flesh it out. First impressions are good. A simple UI, offering functionality similar to Mint, but you can delve deeper for more detail. Hopefully MeasureMap will introduce some unique functionality which will entice people to part with their cash. Talking of which, presumably MeasureMap will offer ongoing price plans, similar to 37signals and their range of products rather than Mint's one off, per url, price of $30. This brings me on to Google and their free application, Urchin, er I mean, Analytics.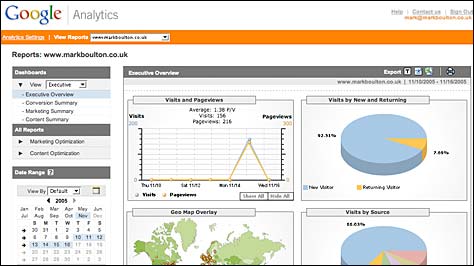 Google seem to have bought Urchin outright (as you can see from the url redirect). Google Analytics is a bit of a monster stats package, providing all the detail you might want with some nice pie-charts, tables and graphs to boot. If you use Adsense, Analytics also hooks in with this to provide you with ROI statistics and so forth. I haven't really had much time to give Analytics a good looking at because the learning curve seems so steep. If this isn't a complicated product, it looks like one, which is where MeasureMap (even in it's Beta state) and Mint have the edge. Google have the edge because this doesn't cost anything to use, simply chuck some Javascript into your templates and you're away.
That is also a problem though. Javascript is turned off by some people and this type of tracking does nothing to track your RSS feeds. Expression Engine does a fine job of tracking my RSS feeds but only in terms of number of clicks, page impressions, but that's it. So, some kind of RSS tracking functionality would be good in any of these packages.
Like I said, I've been using Mint for months now and that probably won't change. I am giving MeasureMap and Google Analytics a go on this site as well and we'll see how it goes. I'm not comparing them, as I feel they are three different levels of stats application ranging from the simple snapshot (Mint) to the more detailed (Analytics) and something in-between (MeasureMap), but we'll see how it goes.