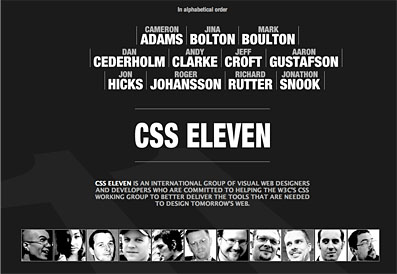 Last week, Andy Clarke announced a new CSS group I'm thrilled to be part of: CSS Eleven.
I'm going to leave the detailed explanation to Andy, but in a nutshell, the group is going to help the 'W3C's CSS Working Group to better deliver the tools needed for tomorrow's web'. I'm particularly interested in having the opportunity to be involved in the several layout modules which have thus far been proposed.
Andy's rounded up a fantastic bunch of designers and developers here. Hopefully we'll have the collective clout to influence things in a positive way in the months to come.