My four year old daughter attends a rural primary school in the Vale of Glamorgan in Wales. The school performs in the top 3% in Wales. Consistently. It's over-subscribed with waiting lists to attend. The head teacher greets every pupil – by name – at the school gates in the morning. She even knows my name. It's a school you feel part of. And the government wants to close it.
We learnt this week that, as parts of plans to change catchment areas for secondary schools, that my daughter's wonderful school is in a list of a few schools that are pencilled in for closure. The pupils will be sent to other, under-performing, under-subscribed, urban schools. We have a small window to fight these changes, but it seems that once this process gets started, it's difficult to reverse.
When I picked my daughter up yesterday, she told that the head teacher had told them in assembly that everyone is going to fight for their school. That mummy's and daddy's should write letters, they should too, and we should make posters. A wonderfully simple attitude to a dreadful situation. I gave her a hug.
As soon as we got through the house door, my daughter went straight to her desk and asked me if she could write a letter to the men in charge. This is it: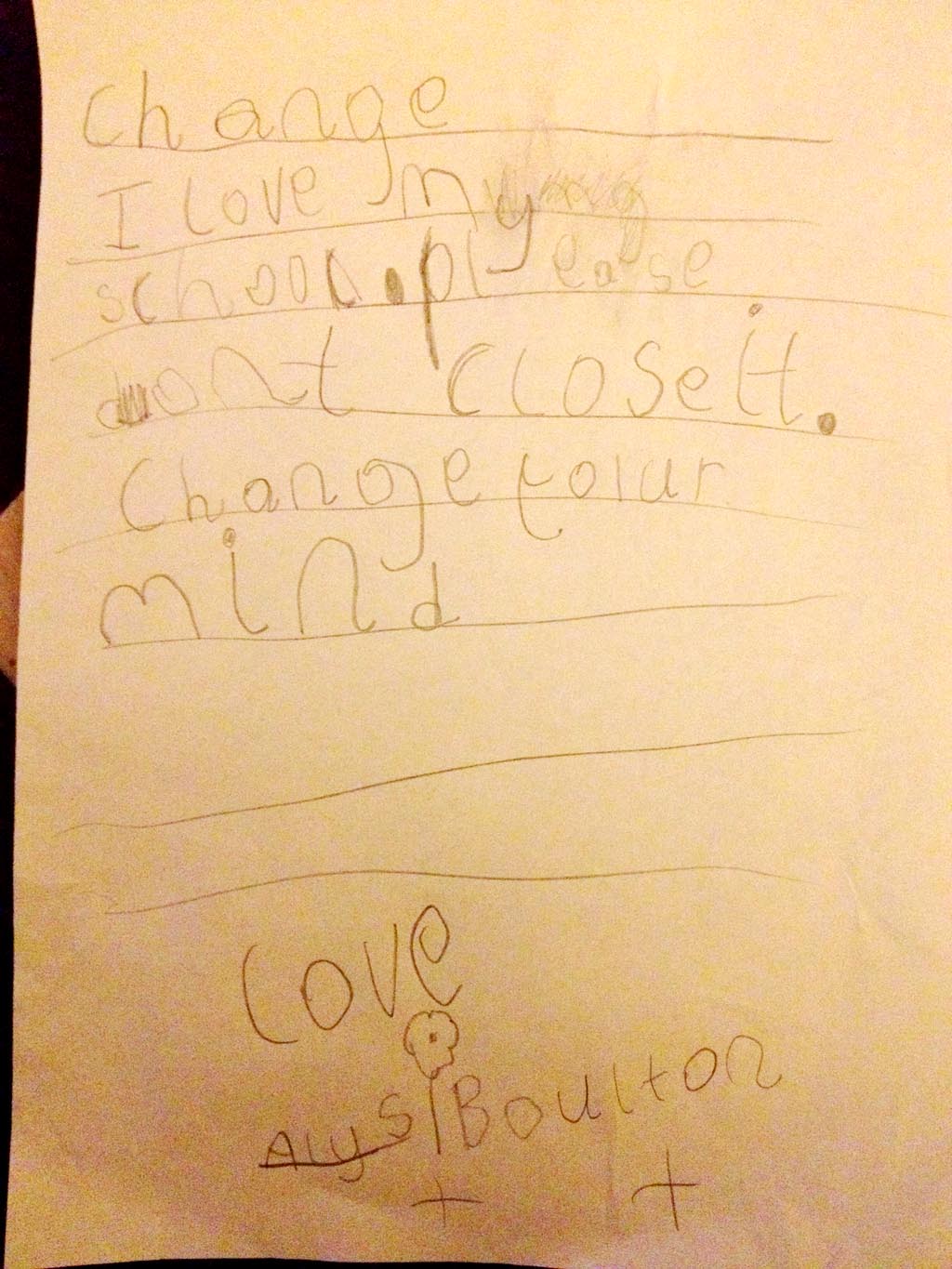 Change. I love my school. Please don't close it. Change your mind. Love, Alys Boulton.
This is what the men in suits don't see. They don't have to sit there and explain it to a four year old that thinks it's all going to be stopped with a couple of posters. They don't think about the illogical idiocy of closing a top, over-subscribed primary school. They think about numbers and averages. They don't think about rural communities, or try to understand why this school is doing so well. No. Thinking about averages leads to average. And who wants that?
So, we're going to fight. With every last breath, I'm sure this school is not going down without a fight.